Electric Outboard Motors –
the Clean Electric Drives for Your Boat
These powerful high-tech electric outboard motors provide strong propulsion, are environmentally friendly, efficient and quiet!
5 reasons why Torqeedo electric outboards are by far the best-selling electric boat drives in the world: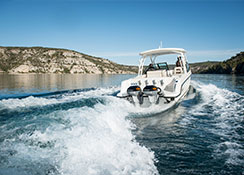 Electric outboards are cleaner than petrol outboards
Torqeedo electric outboard drives for boats cause no water pollution with exhaust gases, oil or petrol. With regard to their carbon footprint, they are superior to combustion motors in a wheel-to-wheel comparison. This means that electric boat motors pollute the atmosphere far less than combustion engines even when all the outboard's production steps and power supply are taken into consideration. The reason for the better carbon footprint of Torqeedo's electric drive systems is their low, resource-saving weight together with their dramatically lower power requirements in operation.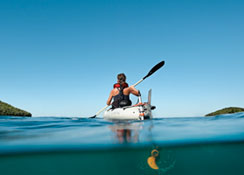 Plug&play: convenient marine equipment packages for your electric outboard motor
You would like to retrofit an electric outboard motor in your boat? We wish to make the switch to alternative sustainable boat drives as uncomplicated for you as possible. For this reason, all the components that you typically need come with the Torqeedo drive system that you buy. All the components already communicate with each other, too. The on-board computer with GPS-based calculation of the remaining range is also part of the standard equipment. Useful accessories include our smartphone app, spare batteries, tiller extensions, transport bags and a whole lot more. In short, everything to make using Torqeedo motors even simpler and more practical.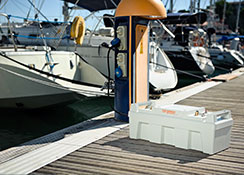 Performance and safety: Torqeedo lithium battery technology for the electric outboard motor

If you choose lithium batteries for your electric outboard or inboard, you get high-performance batteries. But will it be a safe one? For many years Torqeedo has led the way in safety and innovation for lithium batteries in marine applications. We believe our six-tier safety system is the most comprehensive safety concept anywhere in the industry and ensures safe electric propulsion in the boat..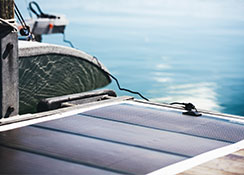 Where does the superior overall efficiency come from with the Torqueedo outboard? ? Superior drive technology
In order to build the most efficient eletric drive systems on the market we focus uncompromisingly on high-tech – and on the careful optimisation and alignment of all components of the drive train. We minimise losses in propeller, gears, motor, electronics and cables while taking into account the interaction e.g. between motor and propeller.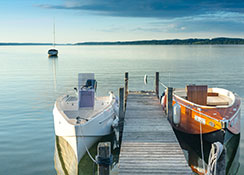 Overall efficiency of the electric outboard drive optimised in every detail
Optimising overall efficiency is at the core of our electric drive development. Overall efficiency is defined as the actual propulsive power of the drive (measured after deducting all losses including propeller loss) divided by the input power. The concept sounds simple and the logic behind it is compelling. And yet overall efficiency is largely ignored – perhaps because it is less important for combustion engines. However, it is extremely important for electric boat drive systems. That's why you will find it with Torqeedo when we describe what's important for us and in our technical specifications.
A comprehensive portfolio of high-tech outboard drives
Power
| | | |
| --- | --- | --- |
| | | High-voltage battery, part of the Deep Blue system |
| | | High-voltage battery, part of the Deep Blue system |
| | | External Power 48-5000 battery or AGM / lead-gel battery |
| | | External Power 48-5000 battery or AGM / lead-gel battery |
| | | External Power 48-5000 battery or AGM / lead-gel battery |
| | | External Power 24-3500 battery or AGM / lead-gel battery |
| | | Integrated Li-ion battery |
| | | Integrated Li-ion battery |
| | | Integrated Li-ion battery |
| | | Integrated Li-ion battery |
Application
| | | |
| --- | --- | --- |
| Commercial operators, green boaters | Deep Blue 25 (40 HP) or Deep Blue 50 (80 HP) | High-voltage battery, part of the Deep Blue system |
| Motorboats, sailboats up to 6 tons | Cruise 3.0 (6 HP) or Cruise 6.0 (9.9 HP) | External Power 24-3500 battery or AGM / lead-gel battery |
| Tenders, dinghies and daysailers up to 1.5 tons | Travel 603 (2 HP) or Travel 1103 C (3 HP) | Integrated Li-ion battery |
| | Ultralight 403 A/AC (1 HP) | Integrated Li-ion battery |